Sure, you've seen The Lion King before. But some things are worth taking another look at. 
It's not hard to notice that Disney has been on a repurposing trend. They've spent the last couple years releasing remakes of old favorites – from Beauty and the Beast to Dumbo to Aladdin – retelling the same story in live-action form. Their most recent take is the beloved Lion King, which was originally released in 1994 but has already seen its fair share of iterations since then. 
The original animated movie is a little lesson in repurposing in itself. The story was an interpretation of Shakespeare's Hamlet, with Simba playing the role of Hamlet, Nala as Ophelia, Scar as the uncle, Timon and Pumba as Rosencrantz and Guildenstern, and Mufasa as Hamlet's father. It was a huge success. From there, Disney repurposed it into a musical and now, a live-action movie. But let's not get carried away. The Lion King is a B2C product, and we know you're in the B2B game. 
So, in celebration of the release of the live-action Lion King, here are four B2B marketing lessons on content repurposing straight from the horse's lion's mouth. 

Lesson 1: Don't underestimate the power of your content kingdom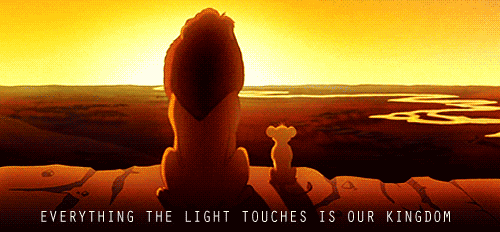 Many B2B marketers are aware that repurposing is a key part of any content strategy, but why exactly is it so beneficial? Remember what Mufasa says to Simba at the beginning of The Lion King? "Everything the light touches is our kingdom." The same can be said for your content. Don't underestimate the power of what you can already see.
Repurposing content is a fast and efficient way to fill your content calendar while giving your brain (and your team) a break. By refreshing existing work, you maximize what you already have and diversify your content by communicating the same message in different forms. This expands your reach to a new and wider audience. The Lion King musical is a perfect example of this. It reached a new buyer persona that occupied a different income bracket and turned a childhood favorite into a new art form. 25 years later, The Lion King musical is still a popular theater staple.
Repurposing also helps keep your content hyper-relevant. Disney has made the live-action Lion King more topical than ever. The film stars the voice talents of Beyoncé and Donald Glover, both of which are global stars that appeal to a wide audience both young and old. And with this version of The Lion King existing in a multi-screen reality, Disney is making great use of the social media platforms that didn't exist when the original was released, even creating their own emojis. In terms of relevancy wars, The Lion King is winning.

Lesson 2: Some pieces of content "Just can't wait to be king"
Repurposing isn't just about grabbing any old thing. Like we mentioned earlier, The Lion King riffed off of Hamlet, a classic piece of canonical literature. There's no need to reinvent the wheel. Some things are tried and true, and proven to work. If you have a piece of content that was a huge success, this is the perfect opportunity to make the best even better. Focus on pieces that are evergreen. This is a crucial aspect that repurposing is dependant on. Topical, time-sensitive material are bad candidates in the realm of repurposing.
The Lion King garnered a lot of awards from the Golden Globes and the Academy Awards, so it makes sense why Disney chose it as one of its live-action remakes. But how do you identify which piece of content to start with? While your content might not have awards, you can use other metrics to help you determine what pieces are worth repurposing:
What content has the most views/downloads? 

What content has generated the most MQLs? 

What content has been viewed/downloaded by won opportunities?
.
.

Lesson 3: Content might be king but distribution has taken the throne
We've all heard it before: "Content is king". But what is often overlooked is how important distribution has become.
Let's say Scar represents content distribution and Simba and Mufasa represent content creation. Remember the wildebeest stampede that killed Mufasa and how quickly the news spread that both Simba and Mufassa had died? There's an important lesson here. Distribution needs to be a major part of your content strategy. While yes, Scar didn't have substantiated, quality content to secure his place as king (he was sitting on a throne of lies), he spread the word. Focusing on distributing your content in the right channels should be a priority in your content strategy. 
Your content isn't going to get to your readers on its own. And in today's multi-screen age, incorporating content distribution across different channels is crucial. This requires a strategic and focused approach that targets your audience. Make sure your repurposed content reflects the different interests and needs of your audience within those channels. For example, the audience of a Slideshare created from a repurposed blog post will be different from the audience of an Instagram post created from that same post. This should be top of mind during your repurposing process. Otherwise, someone else might be king in search engine results. According to Forbes's writer John Hall, a better distribution strategy includes guest posting, making the most of content internally, and using search and social. So, depending on your business capabilities, try to make sure you're doing all three. 

Lesson 4: Repurposing is a constant process – it's the Circle of Life
Content repurposing is an ongoing task. Some pieces might be your SEO jetpack, while others might be duds. Perspectives, technologies, and trends are constantly shifting. But as Mufasa put it so well, "Everything exists together in a delicate balance." It's the Circle of Life. So it's important to evaluate your content on a regular basis to make sure it's providing maximum value for your business.
At some point, certain perspectives will become dated as technology or existing markets change. But you can always add new information to bring your content back to life. It's a good idea to keep your eye on your content. If you haven't conducted a content audit recently, we recommend doing one as soon as possible. Otherwise, you won't have a clear picture of the gaps and opportunities for improvement and how you can maximize the full potential of your existing content. 
The main takeaways 
– Just like The Lion King, a successful piece of content has many opportunities to be repurposed into new pieces that will make the most of your initial investment.
– Your content isn't going to get to readers by themselves. Focus on making strategic distribution across different channels a key part of your content strategy so that your content gets to the right readers in the right way.
– Repurposing is an ongoing cycle that requires a careful eye on how your content exists in its environment and if it's keeping up with the times. If you neglect this essential part of your content strategy, you'll be throwing your content to the hyenas.

A better B2B content marketing strategy starts here. Our template is a great launching pad for effective content that brings results.

Download the resource here.

About Brainrider
Brainrider is more than just a B2B marketing agency. We're a natural extension of your marketing team. We help you plan, execute, and scale better content, web, and digital programs. We deliver tangible results and insights for continuous improvement for a marketing game that keeps getting better. Looking to accomplish your marketing objectives and then some? Get in touch with us.

Sources: 
Imagery courtesy of © 2019 Disney Enterprises, Inc. All Rights Reserved.